February 25th Interdisciplinary – Workshop + Lecture
Co-sponsored by Dept of Art and Art History with generous financial support from the Krenicki Arts and Engineering Institute, School of Fine Arts, University of Connecticut.
Pneuhaus Levi Bedall and Matt Muller from the design/engineering collective will be lecturing on the interdisciplinary nature of their unique practice.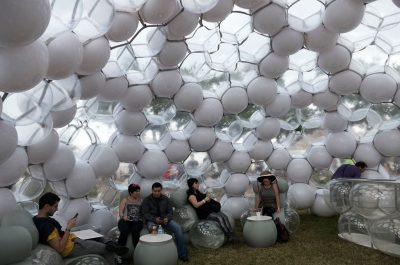 Pneuhaus is a design collective focusing on the mastery of all things inflatable. With expertise in both materials and methods they create spatial designs, and temporary structures ranging from contemporary art and large-scale immersive environments to inflatable habitats for NASA.
As architects, designers, engineers, and artists, they collaborate on new forms, new ideas and new ways to define public spaces in inspiring ways, and develop innovative new forms of inflatable architecture.
7:00pm-8:00pm Lecture- Pneuhaus- design, engineering + creative practice open to the public
Art Building Main Gallery Area.
Please contact Christopher.sancomb@uconn for more information.
---